New York Wood Workers Insurance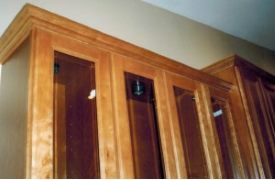 Whether you work at a Sawmill, do the bulk of your business on site or have a shop, there are potential risks that you need to prepare for as a woodworker.
We have the experience to help you plan for these risks and the right companies to get the protection you need at a reasonable price.
As a Woodworker, these are some of the types of insurance you might consider:
General Liability
Business Owners Policy (BOP)
Commercial Auto
Workers Compensation
Commercial Umbrella
Wood Workers Insurance in New York
At Promark Insurance, we work with many woodworking professionals in Williamsville and throughout the state of New York including:
Cabinet Makers
Sawmills
Fence Manufacturers
Flooring, Window and Door Manufacturers
Lumber Yards
And many more.
Give us a call to discuss the best Insurance plan for your woodworking business or use our secure quote form for a no obligation quote today! We strive for quality customer service in Williamsville, New York including the Cleveland, OH, Erie, PA, New York, Rochester, and Syracuse areas.